St. Luke's uses the GODLY PLAY curriculum for early Christian education during Sunday school classes. The GODLY PLAY method helps children explore their faith through story, to enhance their spiritual experience with wonder and play. 
Sunday School is held at 9:30 AM every Sunday, except the first Sunday of the month.
Family Eucharist is held on the first Sunday of the month. The children and youth play a direct role in the worship service by serving as ushers, acolytes and lectors. 
---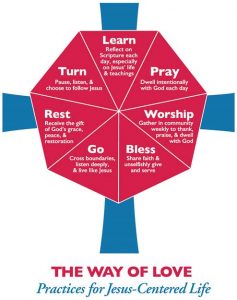 WAY OF LOVE FAMILY RETREAT DAY: On Saturday, February 29that 10 AM we will also be having an intergenerational Way of Love "family retreat" in Lent as a means to introduce The Way of Love to children and families (including grandparents­) and engage all ages in learning about the seven practices that Presiding Bishop Michael Curry has called the Episcopal Church to follow in our daily life. This gathering will include an opening activity for all ages to share what each of the seven practices of Turn – Learn – Pray – Worship – Bless – Go – Rest means to them using puzzle pieces. A puzzle is then constructed and a review of the Circle of the Church Year (using Godly Play) to see how we can follow the Way of Love throughout the year, connecting to Jesus in our lives.  A light lunch will be provided.
Diocesan Youth Events
Christophany 2020
Date: TBD
Location:
Bear Creek Camp
3601 Bear Creek Blvd
Wilkes-Barre, PA 18702
Cost: $125 (scholarships available)
An annual event for Middle & High School Youth. Learn to overcome obstacles with God's help.  Activities will include the high and low ropes courses, a talent show, hiking and campfire. Cost includes breakfast, lunch and dinner on Saturday plus breakfast and lunch on Sunday. Contact the Rev. Doug Moyer for more information