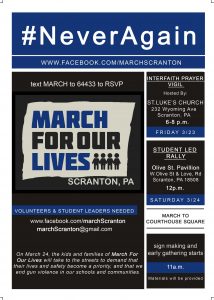 Scranton March for Our Lives Prayer Vigil: On Saturday, March 24th, students, families, and friends of March for Our Lives will take to the streets in Washington, DC and numerous other cities across the country, including Scranton, to demand that their lives and safety become a priority and that we work to end the epidemic of gun violence and mass shootings that plague our nation. On Friday, March 23rd at 6PM, St. Luke's Episcopal Church will host an interfaith prayer vigil for the greater Scranton community. Led by students and faith leaders from many traditions, the service will focus on the magnitude of gun violence including mass shootings, gun suicide, and related traumas. In prayer and song the service will offer an opportunity for lament, remembrance, healing and hope for ourselves and for our country.
______________________________________________________________________________
Lenten Quiet Day – The Also Life:  On Saturday, March 24, 2018 from 9-3, The Reverend Barbara Cawthorne Crafton, Episcopal priest and popular preacher, retreat leader, and writer will be with us again at St. Luke's for a Lenten Quiet Day. Building from the last chapter of her previous book, The Courage to Grow Old, Mother Crafton will guide us in a look at the world around us: what do we know about creation? What gift is there for us in the "also life" of stars and other organic and non-organic forms of existence? How might that shape the way we see our existence and the God who breathed that life into us? And what might life after death be like?  Mother Crafton will be available to sign books which will be available for sale. A light lunch will be provided. Suggested donation of $25 to cover costs of the program.
______________________________________________________________________________
Music for Lenten Meditation – Missa Pro Defunctis:  On Saturday evening, March 24, 2018 at 8:00 pm, the Lyric Consort will perform the complete Requiem of the late Renaissance master, Felice Anerio, prefaced by exquisite Renaissance works of lament and penitence from Weelkes, di Lasso, and Tompkins. The concert will be held at St. Luke's. General Admission: $ 10.00.
______________________________________________________________________________
Lenten Bible Study – Meeting Jesus in the Gospel of John:  On the Sundays in Lent, an adult Bible Study will be offered immediately following coffee hour. Using a six-week program of prayer and reflection offered by the Society of Saint John the Evangelist (SSJE) & the Center for the Ministry of Teaching at Virginia Theological Seminary, we will journey into deeper intimacy with God by reflecting on the person of Jesus, his mission and his message, as it is presented in the writings of John the Evangelist. Each participant will be provided a beautiful 60-page journal which is designed to inspire meditation on a daily verse from John, and encourage participants to respond through words, images, or however the Spirit leads. One may also subscribe online to receive a daily short video in which a monastic brother from the SSJE shares comments on the daily Gospel verse, having a relationship with Jesus, and possibilities for further reflection.
Regional Confirmation and Confirmation Classes:  On April 21, 2018, St. Luke's will host the Regional Confirmation for the Diocese of Bethlehem. Classes in preparation for confirmation will be held on Sunday's during the season of Epiphany. These classes may be used in preparation for baptism, confirmation, or for anyone seeking a deeper knowledge of Christianity as it is lived out in the Episcopal Church and Anglican tradition. For more information, or to register for confirmation, please contact Mother Barnes at mthr@gmail.com or at the parish office, (570) 342-7654.
Centering Prayer Group:  Each Thursday evening at 5:30PM an ongoing weekly Centering Prayer group meets at St. Luke's. Centering Prayer is a contemplative form of prayer geared toward the cultivation of interior silence or "centering." This form of prayer invites one to enter into a deeper relationship with God by being open and receptive to the presence and action of God in our lives and to the Spirit that dwells within us. Weekly sessions will include prayer, a contemplative walk, and study of Thomas Keating's book, Open Mind, Open Heart, and other writings from the Christian Contemplative tradition. No prior experience is necessary. For more information, please contact Mother Barnes at mthrbarnes@gmail.com or by calling the parish office.
Safety Net Volunteers needed:  Monthly volunteers are needed to work a four-hour (12-4) shift at the door.  A sign-up sheet is located in Israel Lounge. If you are available and can assist in this way, or have any questions, please contact Robin O'Hearn at (570) 963-5407. Following the summer months, there is also great need to restock the food pantry shelves for our neighbors in need. Items needed are:
Canned fruit or meat—soups, tuna      Boxed pasta/Spaghetti          Baby wipes
Peanut Butter/Jelly                               Rice                                           Shampoo and Deodorant
Juices (100% juice) orange, apple       Boxed Cereal                            Diapers—3, 4, 5
Canned Chef Boyardee                         Pasta sauces                             Razors (Men's & Women)
Macaroni & Cheese Dinner
Office hours – The parish office will be open Tuesday – Friday from 8:30 A.M. to 3:00 P.M. As always, in the event of a pastoral emergency, Mother Barnes may be reached on her cell phone, (646) 533-1836.