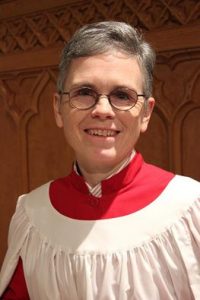 I am pleased to announce Maria Zengion, as St. Luke's new Organist and Choirmaster. Maria will begin at St. Luke's on The First Sunday of Advent, November 28, 2016.
Maria has served as organist at numerous churches including St. Peter's Cathedral, Scranton, and Grace Episcopal Church, Honesdale. She holds a Bachelor of Music degree from Westminster Choir College, Princeton, NJ, specializing in Organ Performance. Upon admission to Westminster Choir College she received the Alexander McCurdy Award for excellence. She also holds a Master of Music Degree in Organ Performance from The New England Conservatory of Music, Boston, MA. Both of her degrees focus on historical performance practice.
Additionally, while at Westminster Choir College, Maria studied organ building. She has held many journeyman apprenticeships from Gloucester, MA to Tacoma, WA. Maria has apprenticed with harpsichord builder Willard Martin in Bethlehem, PA. Since 2000, she has served as the Organ Curator for The Bethlehem Bach Choir.
Please join me in welcoming Maria to St. Luke's.   – Mother Barnes
---
St. Luke's is an inclusive, historic parish in downtown Scranton with a rich history of musical excellence. We understand the importance of music as an integral part of our liturgy and worship. We value our affiliations with numerous musical and performing art organizations in Scranton including, the Lyric Consort, Arcadia Chorale, and the Choral Society of Northeastern Pennsylvania. The pipe organ in St. Luke's is a 1964, 24 rank, 3-manual, M. P. Möller instrument (Op. 9916).
The music program at St. Luke's Church encompasses the many great singing traditions of the Anglican Church, from the simplistic elegance of the Plainsong Psalter to the sublime complexity of the polyphonic Choral Mass. Anthems are integrated thematically within the Eucharist and are sung by St. Luke's professional trio. The trio is comprised of Lauren Cuccia, Soprano, Carol Curtis McMullen, Alto, and Francis Carroll McMullen, Baritone. The trio dedicates themselves to the discipline of historically informed performance practice of polyphonic music.
As St. Luke's congregation continues to grow, we hope to further develop our Music Ministry.