St. Luke's uses the GODLY PLAY curriculum for early Christian education (ages five to ten) during Sunday school classes. The GODLY PLAY method helps children explore their faith through story, to enhance their spiritual experience with wonder and play.  
Sunday School is held at 9:30 AM every Sunday, except the first Sunday of the month.  
Family Eucharist is held on the first Sunday of the month. The children and youth play a direct role in the worship service by serving as ushers, acolytes and lectors. 
For more information, to enroll your child, or to learn more about serving in the Sunday school program, please see Mother Barnes or email her at mthrbarnes@gmail.com or Rick Ammenhauser at imgold67@aol.com
---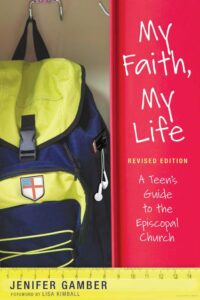 ►Youth Confirmation Class – On Sunday, October 2 we launched our yearlong confirmation program for our youth (ages 11-16). Youth Confirmation classes are held at 4PM in Kreitler Hall on the first Sunday of the month. Mentors join us at the class dinner every other month. We are using the book, "My Faith, My Life", a Teen's Guide to the Episcopal Church. This program will be a preparation for our older youth for confirmation on June 4, 2023.
In subsequent years, we will be launching a new youth program "J2A: Journey to Adulthood in order to offer ongoing spiritual formation which allows our youth to adequately meet the needs of young people in the 21st century.  For more information, to enroll your child, or to learn more about serving in any of our Sunday school or youth programs, please see Mother Barnes or email her at mthrbarnes@gmail.com or Rick Ammenhauser at imgold67@aol.com
Additional Christian Education and Formation Offerings
►
Children 
IT'S STORYTIME! Families with children ranging from age 18 months to five years old are invited to join Mother Barnes and Amanda Wrazien in a new program especially designed for our youngest St. Luke's members, friends and family. StoryTime will begin in the new year (date TBD) and will be an hour long event that will include story time, an age appropriate craft, and snacks. Adults are encouraged to bring along a favorite blanket or comfy cushion for their little ones. The story will be offered by Amanda, a former preschool teacher and mom to three children.  We're looking forward to connecting our families to each other and the parish as we work together to plan and organize other activities to foster our youngest parishioners' faith. To register your child or obtain more information, please contact the parish office at 570-342-7654.
►Youth
Episcopal Youth Event – EYE (pronounced E-Y-E) is a gathering of youth ages 15-19 from around the world who assemble on a college campus to learn, laugh, and worship together. 2023's theme is: Regreso A Casa: A New Age of Faith. This bilingual theme emphasizes a kind of "homecoming". EYE for 2023 will take place from July 3 – 8 at the University of Maryland.  EYE is the second largest event the Episcopal Church does, and since this event is held only once every three years, for many #EYE23 will be their only chance to attend.  With close to 1,500 people in attendance (including youth, their adult mentors, clergy, and bishops from around the church), EYE programs focus on helping develop leadership skills, spiritual practices, and early stages of vocational discernment. Time is spent in worship, large group presentations, small group discussions, workshops on a variety of topics (Participants select the workshops they wish to attend.), and time to hang-out and meet Episcopalians from around the world. Registration is now closed. Please pray for our youth who will be attending.
Click below to access free faith formation resources for kids and families.
Click below to access free faith formation resources for kids. Lectionary-based resources are:
Youth Gathering with Church of the Epiphany and St. Peter's – August 21 from 1-4.
Click here for the Scavenger Hunt
Click here for the Service Leaflet
From previous Sundays
During this time of physical distancing and staying at home we are providing resources for parents and grandparents to share with younger family members. Click on the links below for resources for this week, as well as other age appropriate and inter-generational activities.
For Sunday, May 22, 2022 – The Sixth Sunday of Easter: Rogation Sunday
Both of these are great for Rogation Day!
For Sunday, November 28, 2021. New Lectionary-based materials are available by emailing Mother Barnes at mthrbarnes@gmail.com or calling the parish office.
Here's an Advent Coloring book to "Color Your Way Through Advent and Christmas."
For Sunday, November 7, 2021 – All Saints' Sunday here's a link to an "All Saints Mini Book" for kids.
For Sunday, October 31, 2021. Materials include: Lectionary-based Sunday Paper Junior
For Sunday, October 24, 2021 – The Feast of St. Luke. Click here for a coloring sheet of St. Luke.
Spiritual Resources for Holy Week
Agapé Meal Activity. Children, parents and non-family adults enjoy asking and answering questions. Everyone can learn something about the symbolic pieces of Maundy Thursday and Holy Week.
The Great Easter Vigil Fort. Make a pillow fort, or a "cave," under a table. Turn down the lights and grab a flashlight. Get cozy. Read and sing through the prayers and readings suggested by Wendy Barrie — however much is appropriate for your children. You could do some before bed and the last part on Easter morning.
Holy Week coloring pages  by Sybil Macbeth. You can "incorporate them with your intercessory prayers or with your current Lenten discipline. Another idea is to place your griefs, sorrows, questions, queries, beliefs, unbeliefs, petitions, wails, wows, gratitudes, grudges, pains, pleasures, satisfactions, sufferings — anything that comes up for you — on the templates. Use words, doodles, strokes of the pen, dots, dashes, color…" 
For The Fourth Sunday of Easter, April 25, 2021. Materials include: Lectionary based Sunday Paper Junior
For Lent and Holy Week, we are offering An Illustrated Lent for Families – Reflections on the Heart. To have these materials sent to you, please email Mother Barnes at mthrbarnes@gmail.com

As we mark a year of living with Covid-19 and having our world turned upside down, we hope these Prayers for Marking a Year of Covid-19 coloring pages will provide you and your family with some language for marking the anniversary that changed everything

Here's a Wordsearch for the Fourth Sunday of Easter – Good Shepherd Sunday.
Valentines Day. Here's a coloring sheet "You are loved." The Bible has lots to say about love. Want to add a verse to your valentines hearts?  Some verses to use: 1 John 4:7, 1 Corinthians 13:4, Romans 12:10, Luke 6:35a, John 3:16, Mark 12:30, John 13:34, 1 John 4:19, 1 Corinthians 13:13.
Here's a Baptism of Jesus lesson and Coloring Sheet from our friends at Illustrated Ministry.
And here's an Epiphany Star Coloring sheet.
Click here for a special Christmas edition of the  Sunday Paper Junior.
From Advent 4, here's an Annunciation coloring sheet based on Fra Angelico's painting of the Annunciation.
Coloring page for the Feast of St. Lucia.
Click here to learn more about St. Lucia and Christmas in Sweden...and a yummy recipe too!
Children's coloring page for the Feast of St. Nicholas.
All Saints Coloring Sheet and an All Saints Wordsearch
Children's coloring sheet for the Feast of St. Luke (10/18).
And here's a coloring sheet for the Feast of St. Francis(10/4).
Here are some resources for talking to kids about race:
This post originally appeared in August, 2017 after the racial violence in Charlottesville. It has been substantially rewritten as of June 1, 2020.
______________________________________________________________________________
Here's a resource for talking to kids about race: A Kids Book About Racism by Jelani Memory — An excellent book and video reading by the author for young children.
______________________________________________________________________________
Especially for our Teens and Tweens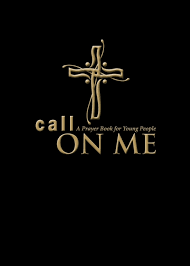 Call On Me: A Prayer Book for Young People by Sharon Ely Pearson and Jenifer C. Gamber.
This prayer book designed for teens draws on the Book of Common Prayer, the Bible and events that occur in their daily lives. This creative compilation of over 100 original prayers offers simple New and original prayers are also offered, written by contemporary church leaders in the Episcopal Church, as well as by teens themselves, young adults and youth leaders and insightful instruction about prayer. 
Two Helpful Articles
---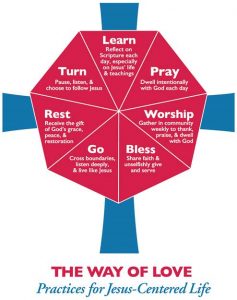 WAY OF LOVE FAMILY RETREAT DAY: On Saturday, February 29, 2020 at 10 AM we held an intergenerational Way of Love "family retreat" in Lent as a means to introduce The Way of Love to children and families (including grandparents­) and engage all ages in learning about the seven practices that Presiding Bishop Michael Curry has called the Episcopal Church to follow in our daily life. This gathering will include an opening activity for all ages to share what each of the seven practices of Turn – Learn – Pray – Worship – Bless – Go – Rest means to them using puzzle pieces. A puzzle is then constructed and a review of the Circle of the Church Year (using Godly Play) to see how we can follow the Way of Love throughout the year, connecting to Jesus in our lives.  A light lunch will be provided.
Diocesan Youth Events