THIS WEEK AT ST. LUKE'S
In-person and Live-streaming/zoom gatherings from St. Luke's. 
On Saturday, May 22, 2021 we resumed in-person worship. We will continue to stream in-person services at St. Luke's, as well as the Daily Office, as scheduled. Please join us on our Facebook page for streamed services.  **(Note: if you are NOT a Facebook member, when you click on the link it will ask you to sign in or create an account, which you can ignore and just scroll down the page a bit till you see the service.)
Click here for a copy of the Book of Common Prayer!
Click here for a copy of Enriching Our Worship 1. This contains supplemental liturgical materials (i.e. Canticles) we occasionally use for Morning and Evening Prayer.
Daily Office: Morning and Evening Prayer – Morning Prayer at 9 AM; Evening Prayer at 5PM are live-streamed on Sunday; Tuesday through Saturday morning. 
SATURDAY, MARCH 18 – CYRIL OF JERUSALEM
SATURDAY, MARCH 18 – THE FOURTH SUNDAY IN LENT 
The Fourth Sunday in Lent Lectionary Readings
Click here for the 5PM service leaflet
SUNDAY, MARCH 19 – THE FOURTH SUNDAY IN LENT 
See above for lectionary readings
Click here for the 10AM service leaflet
MONDAY, MARCH 20 – SAINT JOSEPH – Major Feast Day (There are no scheduled services this day). 
TUESDAY, MARCH 21 – THOMAS KEN

WEDNESDAY, MARCH 22 – JAMES DE KOVEN
9AM – Morning Prayer – No Live-streaming due to parish retreat 
12:10 PM – Midweek Healing Eucharist  –

NO EUCHARIST TODAY DUE TO RETREAT

1PM – Wednesday Lunchtime Bible Study  Our ongoing Bible study group meets each Wednesday at approx. 1pm BOTH IN KREITLER HALL AT ST. LUKE'S AND ON ZOOM. All are welcome to join in. To access the class on Zoom, click here. 

NO BIBLE STUDY TODAY DUE TO RETREAT

5PM – Evening Prayer – No Live-streaming due to parish retreat 
THURSDAY, MARCH 23 – GREGORY THE ILLUMINATOR
FRIDAY, MARCH 24 – OSCAR ROMERO
SATURDAY, MARCH 25 – THE ANNUNCIATION
Key Announcements
►Our latest edition of the St. Luke's Newsletter is hot off the press. Click here to see the MARCH 2023 edition.
 ——————————————————————————————————————.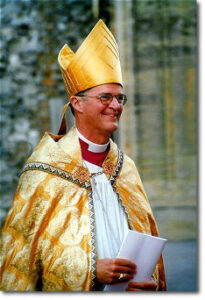 The Rt. Rev. Frank Tracy Griswold III, who served as the 25th presiding bishop of The Episcopal Church from 1998-2006, died Sunday, March 5, 2023, in Philadelphia, Pennsylvania, at the age of 85.
Episcopal Church Presiding Bishop Michael Curry offered the following statement:
"Please join me in prayer for Bishop Griswold's family and for all of us who give thanks for a remarkable and faithful servant of God who served among us as the 25th presiding bishop of The Episcopal Church. May the soul of Bishop Griswold, and the souls of all the departed, through the mercies of God, rest in peace and rise in glory."
TOMORROW: Watch the livestream of the funeral Mass for the Rt. Rev. Frank T. Griswold III on March 18, 11 a.m. ET.
A Rite of Christian Burial service for the Rt. Rev. Frank Tracy Griswold III, 25th presiding bishop of The Episcopal Church, will take place Saturday at St. Luke's Episcopal Church, 5421 Germantown Ave., in Philadelphia.
Bishop Griswold's family provided the following obituary:
The Rt. Rev. Frank Tracy Griswold III died Sunday, March 5, 2023, in Philadelphia, Pennsylvania. A renowned preacher known for his warmth and wit, Griswold served as the 25th presiding bishop of The Episcopal Church, leading the Protestant denomination from 1998 to 2006. Griswold also co-chaired the Roman Catholic-Anglican Commission from 1998 to 2003 and made significant contributions to the 1979 Book of Common Prayer and to its practical use in the liturgical life of the church. Griswold's private spiritual practice was deeply informed by the early mothers and fathers of the church, and he championed Eastern traditions of the open-hearted and healing power of God's love. 
Born in Bryn Mawr, Pennsylvania, in 1937, Griswold earned a Bachelor of Arts at Harvard College and a Master of Arts from Oriel College at the University of Oxford. He was ordained as an Episcopal priest in 1963. He married his beloved wife, Phoebe Wetzel, in 1965, and they raised two daughters in Philadelphia and Chicago, where Griswold was elected as Episcopal bishop in 1987. Griswold practiced a wide ministry of teaching, writing, lecturing, and leading retreats, nationally and internationally. After completing his term as presiding bishop, he served as a visiting professor at seminaries and universities in South Korea, Cuba, and Japan, as well as at the Episcopal Divinity School, the Church Divinity School of the Pacific, Virginia Theological Seminary and Seabury-Western Theological Seminary. He also served as bishop visitor to the Society of St. John the Evangelist. His books include "Going Home" (Cowley Publications Cloister Book), "Praying our Days: A guide and companion" (Church Publishing Group),"Tracking Down the Holy Ghost: reflections on love and longing" (Church Publishing Group), and, co-authored with the Rev. Mark McIntosh, "Seeds and Faith" and "Harvest of Hope" (Eerdmans).
He is survived by his widow, Phoebe, his two daughters, Hannah and Eliza, and three grandchildren.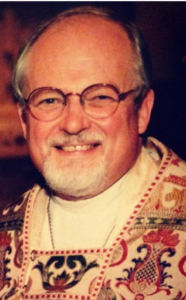 The Rite of Christian Burial for Bishop Croneberger will be this Saturday (March 18, 2023), 12:00 p.m., at Christ Episcopal Church in Reading. Additionally, the service will be live streamed on the Diocese of Bethlehem's YouTube channel: click here. The service program is also available online: click here.

2023 Holy Week and Easter Schedule of Services
PALM SUNDAY VIGIL – April 1, Liturgy of the Palms and Holy Eucharist with reading of the Passion at 5:00 p.m.
PALM SUNDAY – April 2, Liturgy of the Palms and Sung Holy Eucharist with reading of the Passion – 10:00 a.m.
MAUNDY THURSDAY – April 6, Sung Holy Eucharist at 7:00 p.m. followed by Night Watch 'til Midnight.
GOOD FRIDAY – April 7, Good Friday Service, 12 Noon – 3 p.m.; Stations of the Cross -7 p.m.
EASTER VIGIL  –  April 8, The Great Vigil of Easter – 8:00 p.m.
EASTER DAY – April 9, The Day of the Resurrection with Sung Holy Eucharist – 10:00 a.m. followed by Easter Brunch and an Easter Egg Hunt for children.
LENT AT ST. LUKE'S
Lent:  Early Christians observed "a season of penitence and fasting" in preparation for the Paschal feast, or Pascha (BCP, pp. 264-265). The season now known as Lent (from an Old English word meaning "spring," the time of lengthening days) has a long history. Originally, in places where Pascha was celebrated on a Sunday, the Paschal feast followed a fast of up to two days. In the third century this fast was lengthened to six days. Eventually this fast became attached to, or overlapped, another fast of forty days, in imitation of Christ's fasting in the wilderness. The forty-day fast was especially important for converts to the faith who were preparing for baptism, and for those guilty of notorious sins who were being restored to the Christian assembly. In the western church the forty days of Lent extend from Ash Wednesday through Holy Saturday, omitting Sundays. The last three days of Lent are the sacred Triduum of Maundy Thursday, Good Friday, and Holy Saturday. Today Lent has reacquired its significance as the final preparation of adult candidates for baptism. Joining with them, all Christians are invited "to the observance of a holy Lent, by self-examination and repentance; by prayer, fasting, and self-denial; and by reading and meditating on God's holy Word" (BCP, p. 265).
– An Episcopal Dictionary of the Church
(Glossary definitions provided courtesy of Church Publishing Incorporated, New York, NY,(All Rights reserved) from "An Episcopal Dictionary of the Church, A User Friendly Reference for Episcopalians," Don S. Armentrout and Robert Boak Slocum, editors.)
►Fridays in Lent: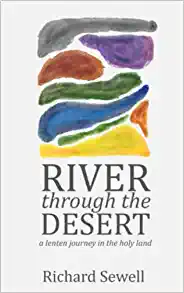 ►Lenten Loaves and Lessons: This lay-led time of fellowship and reflection on Friday evenings during Lent will begin at 5:30PM with a light (meatless) Lenten supper of soup, salad and bread. The hour together will focus on Lenten meditations from The Very Rev. Canon Richard Sewell's book, River through the Desert: A Lenten Journey in the Holy Land. In the weekly reflections, we will "travel" step by step through a landscape riven with the traces of God. As he stops at the Sea of Galilee and as he prays in the Garden of Gethsemane, Sewell reveals that the apparently arid landscape of our own lives can yield surprising nourishment when we take time for prayer, Scripture, and meditation. The six-week program will focus on the physical features of the Holy Land and will include short videos, scripture readings, and reflections. Mother Barnes will enrich the discussions with details of her own pilgrimage to the Holy Land. As a lay lead offering, volunteers are needed to host and present. For more details, please see Mother Barnes.
►On Friday, February 24, 2023 at 7:00 PM (and continuing at this time on Friday evenings throughout Lent) we will pray the Stations of the Cross followed by Compline.
______________________________________________________________
Christian Education and Formation
►Children 
IT'S STORYTIME! Families with children ranging from age 18 months to five years old are invited to join Mother Barnes and Amanda Wrazien in a new program especially designed for our youngest St. Luke's members, friends and family. StoryTime will begin in the new year (date TBD) and will be an hour long event that will include story time, an age appropriate craft, and snacks. Adults are encouraged to bring along a favorite blanket or comfy cushion for their little ones. The story will be offered by Amanda, a former preschool teacher and mom to three children.  We're looking forward to connecting our families to each other and the parish as we work together to plan and organize other activities to foster our youngest parishioners' faith. To register your child or obtain more information, please contact the parish office at 570-342-7654.
Sunday School: St. Luke's uses the GODLY PLAY, a Montessori-based curriculum with our younger children, ages five to ten years old. Sunday School is held at 9:30 AM every Sunday, except the first Sunday of the month. 
Family Eucharist is held on the first Sunday of the month. The children and youth play a direct role in the worship service by serving as ushers, acolytes and lectors. 
►Youth
►CONFIRMATION CLASS SERVICE PROJECT:  Please help the Confirmation class with their service project! They will be collecting soda tabs from any cans for the Ronald McDonald House. The Ronald McDonald House takes the tabs to be recycled in exchange for funds for supplies needed for families staying at the house. The Confirmation class will be collecting tabs in the bucket located in the back of the church until June 4th. Thank you in advance for helping.
Youth Confirmation Class – Our Youth Confirmation program is underway, with the launch of our yearlong confirmation program for our youth (ages 11-16) having begun on Oct. 2 at 4PM in Kreitler Hall. We will be meeting monthly on the first Sunday of each month, October 2022 –May 2023. We are using the book, "My Faith, My Life", a Teen's Guide to the Episcopal Church. This program will be a preparation for or our older youth for confirmation next June. In subsequent years, we will be launching a new youth program "J2A: Journey to Adulthood in order to offer ongoing spiritual formation which allows our youth to adequately meet the needs of young people in the 21st century.  For more information, to enroll your child, or to learn more about serving in any of our Sunday school or youth programs, please see Mother Barnes or email her at mthrbarnes@gmail.com or Rick Ammenhauser at imgold67@aol.com
Episcopal Youth Event – EYE (pronounced E-Y-E) is a gathering of youth ages 15-19 from around the world who assemble on a college campus to learn, laugh, and worship together. 2023's theme is: Regreso A Casa: A New Age of Faith. This bilingual theme emphasizes a kind of "homecoming". EYE for 2023 will take place from July 3 – 8 at the University of Maryland.  EYE is the second largest event the Episcopal Church does, and since this event is held only once every three years, for many #EYE23 will be their only chance to attend.  With close to 1,500 people in attendance (including youth, their adult mentors, clergy, and bishops from around the church), EYE programs focus on helping develop leadership skills, spiritual practices, and early stages of vocational discernment. Time is spent in worship, large group presentations, small group discussions, workshops on a variety of topics (Participants select the workshops they wish to attend.), and time to hang-out and meet Episcopalians from around the world. Registration is now closed. Please pray for our youth who will be attending.
►Adult
Wednesday Bible Study:  Throughout the season of Lent we will shift to having a Lectionary based weekly study. Each week, we will explore the upcoming texts for Sunday's liturgy. The Wednesday Bible Study that meets at 1PM following the Healing Eucharist. To access the upcoming readings, go to www.lectionary.net
►Lenten Retreat at Holy Cross Monastery –  DEADLINE FOR RESERVATIONS PAST – In March (March 21-24, 2023) a parish Lenten retreat is planned Holy Cross Monastery in the New York Hudson Valley. The suggested donation for the three days is $330 per person which will cover all lodging, program costs, and meals including breakfast and dinner the day of departure. Space is extremely limited! Please contact Mother Barnes ASAP to reserve a spot. Scholarship for those in need is available upon written request.
►Centering Prayer Group:  Each Thursday evening at 5:30PM an ongoing weekly Centering Prayer group meets. Centering Prayer is a contemplative form of prayer geared toward the cultivation of interior silence or "centering."  This form of prayer invites one to enter into a deeper relationship with God by being open and receptive to the presence and action of God in our lives. No prior experience is necessary. For more information, contact Mother Barnes at mthrbarnes@gmail.com or call the parish office.
►Intergenerational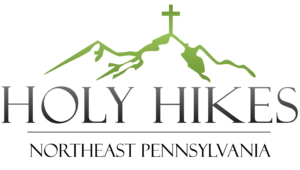 Holy Hikes Northeast Pennsylvania:  On Saturday, March 18, 2023, at 10AM members of St. Luke's Holy Hikes chapter will gather for their monthly hike and Eucharist. The March hike will  be held at the Merli Sarnoski Lake Trail:  https://www.alltrails.com/trail/us/pennsylvania/merli-sarnoski-lake-trail  Holy Hikes Northeast Pennsylvania is a chapter of a nationwide Episcopal organization and an official ministry of St. Luke's, Scranton. We meet on the third Saturday of each month. The contemplative hike is structured to celebrate Eucharist as we walk and find ways of being in prayer, reflection, and communion with God's Creation.  See you on the trail!
►Welsh Cookies
St. Luke's next day for cookie making day for Saturday March 26, 2023 at 9:0 0AM A sign up sheet for ordering and for volunteering will be available in Israel Lounge.
►Lenten Pizza Fundraiser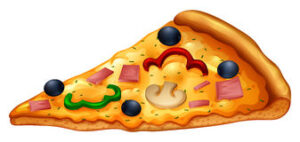 St. Luke's is partnering with Rosanna's Pizza for the second year for our Lenten Pizza Sale Fundraiser. Rosanna's is offering a coupon that can be redeemed for a plain tray of pizza at either of their locations at 998 Main Ave., Dickson City or 501 N. Hyde Park Ave. in west Scranton. The coupon cost is $13.00 and it never expires. The coupons are available in the parish office and will be available to purchase throughout Lent. Two coupons will be mailed to parish members so that people can consider purchasing them in support of the fundraiser or they can be returned to the parish office. Please see Rick Ammenhauser at imgold78@aol.com for more details.
________________________________________________________________________________
Community Outreach and Social Justice
Easter is right around the corner!  Friends of the Poor are seeking Basket Donations, wrapped in clear cellophane and filled with candy, sweet snacks, or small toys & games, by March 31, 2023.
St. Luke's will be collecting baskets in Kreitler Hall and drop them off at Friends of the Poor on March 30, 2023.
►Black History Month…continues
At the University of Scranton
March 8, 7-8:30 pm, Humanities Lecture & Discussion featuring Julius Fleming, author of "Black Patience: Performance, Civil Rights, and the Unfinished Project of Emancipation". The Rose Room, Brennan Hall 509, The University of Scranton. Register at: https://www.surveymonkey.com/r/BlackPatience23.  
Through March 10, "A New Understanding" by Travis Prince exhibit at the Hope Horn Gallery. More information here: https://www.scranton.edu/academics/hope-horn-gallery/biennial.shtml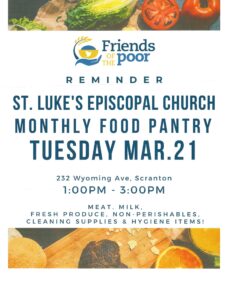 ►Food Pantry – Volunteers Needed
St. Luke's will hold its client's choice style food pantry on Tuesday, March 21, 2023 from 1:00 – 3:00PM. Volunteers are needed to register guests, to assist guests as they shop, and to break down tables when the pantry closes at 3:00PM. For more information on how to volunteer or if you or someone you know is in need, please email Sharon Sollami at sharonsollami@gmail.com or Amanda Wrazien at manders018@gmail.com
Past events and services
► "Straight Talk About Parish Finances"- March 7, 2023, online at 6:30 p.m
On March 7, 2023, online at 6:30 p.m., "Straight Talk About Parish Finances" is an opportunity to hear from finance and audit professionals from across the diocese and get answers to questions you have about managing parish finances. More information can be found here: (https://events.r20.constantcontact.com/register/eventReg?oeidk=a07ejm33qn1af8e43d0&oseq=&c=&ch=)
This session is intended to be a pilot test that we hope will lead to future sessions both online and in-person. Registration will be limited to 30 participants with preference given to members of Convocations I, II, and III (to see a Convocation listing by parish: click here). We hope to learn from this session and create additional future sessions members from every Convocation.
The St. Luke's Finance Committee will be attending as part of their monthly meeting. All Vestry members are strongly encouraged to register, as well.
►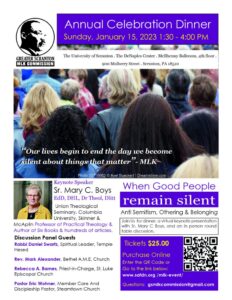 The Greater Scranton MLK Commission will host its annual dinner to celebrate the life, legacy, and work of Rev. Dr.Martin Luther King, Jr. on Sunday January 15, 2023 from 1:30-4:00PM at The University of Scranton's DeNaples Center at 900 Mulberry St.
This year's theme is When Good People Remain Silent:
Anti-Semitism, Othering, Belonging. The Commission is
focusing on the increasing threat of anti-Semitism, the
effects of othering, and the importance of belonging for our Black, Indigenous, People of Color (BIPOC) and LGTBQ communities. The dinner will be followed by a virtual livestream from Keynote speaker, Sr. Mary C. Boys EdD, DHL, Dr. Theol, Dlitt. Sr. Boys is a professor of Practical Theology and author of six books. The virtual stream will be followed by an in-person round table discussion.
Panelists include The Rev'd Rebecca A. Barnes, Rector, St. Luke's Episcopal Church;  Rabbi Daniel Swartz, Spiritual Leader, Temple Hesed; Rev. Mark Alexander, Bethel A.M.E. Church; and Pastor Eric Wohner, Member Care and Discipleship Pastor, Steamtown Church.
Click here to listen to the lecture and panel discussion.
______________________________________________________________________________
►ANNUAL MEETING OF THE PARISH
St. Luke's Annual Parish Meeting was held on Sunday, January 29, 2023 immediately after the 10:00AM Eucharist and was followed by a Parish Pot-Luck Luncheon in Kreitler Hall following. The meeting was a hybrid offering as permitted by the Canons of the Diocese of Bethlehem.
At the Annual meeting, Vestry, parish officers, and organizations/committee reports presented, and plans for ministry, mission, and spiritual growth in the year to come. The approved 2023 annual budget was also presented. There was an important parish vote to reduce the size of the Vestry from nine to seven Vestry members and the resolution was approved.  Two Vestry members were elected: Sharon Sollami (second term), and our Treasurer, Thomas Zurla (first term). The candidates for Lay Delegates to Diocesan Convention will be: Sharon Sollami, David Wegner; Alternate Lay Delegates are: Mickey Baccoli and Amanda Wrazien. 
Click here for a final edited copy of the 2022 Annual Report
Click here for the 2023 Annual Meeting Agenda
Click here for the 2023 Annual Meeting Ballot
Vestry Officer Election: At the Vestry meeting on February 8, 2023 elections were held for Senior Warden, Junior Warden, Treasurer and Clerk. The Diocesan Bylaws for all parishes stipulate that the Senior Warden shall be elected annually by the Vestry, upon nomination by the Rector or Priest-in-Charge, from among the members of the Vestry; the Junior Warden shall either be elected annually from among their number by the Vestry or shall be appointed by the Rector; and the Clerk and Treasurer shall be elected annual by the Vestry. Our Senior Warden, Mickey Baccoli and Junior Warden, Rick Ammenhauser have both been re-elected, as has our Clerk, Kathy Selemba. Tom Zurla is elected as Treasurer. Please offer your congratulations and thanks to our Vestry officers, and to Tom, newly elected vestry member. We are grateful for their willingness to stand for election and their service to St. Luke's.
__________________________________________________
►Obituary and Funeral Service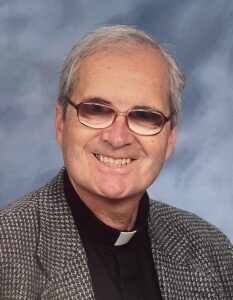 The Reverend Lester E. Stephenson, Jr., died on Tuesday morning in the Hospice of the Sacred Heart Inpatient Unit, Dunmore. His wife of 41 years is Ruth Ann Meeson. Pastor Stephenson served St. John's Lutheran Church in Jim Thorpe from 1974 to 1979, Saint Mark's Lutheran Church in West Scranton from 1979 until 2005. In 2005, Pastor Stephenson was called to serve St. Matthew's Lutheran Church in Scranton.  St. Matthew's was a consolidation of the St. John's Lutheran Church, Center City of Scranton and St. Mark's Lutheran Church of  the West Side of Scranton.   Pastor Stephenson served there for 11 years retiring on December 31 2015. Upon retirement he and his wife attended St. Luke's. Funeral services were held January 14, 2023 at St. Luke's at 11:00 AM officiated and celebrated by Mother Barnes.
Click here for the service leaflet. Click here to view the streamed service is available on our FB page