Worship Schedule
IN-PERSON WORSHIP
In-person worship resumed on the Eve of Pentecost, May 22, 2021. We will still continue to stream our services.
Broadcast Link for all services:
https://www.facebook.com/St-Lukes-Episcopal-Church-Scranton-PA-215512459865/
Our schedule of daily livestreamed services is:
Saturdays: Evening Prayer Liturgy, 5PM.
Sundays: Morning Prayer (Rite I), 9 AM; Sunday Liturgy, 10AM; Evening Prayer at 5 PM.
Tuesday – Saturday morning: Morning Prayer at 9AM; Evening Prayer at 5 PM. (Please note, there are no streamed services on Mondays.)
All services are livestreamed on the St. Luke's Facebook page and may be accessed by clicking here.
____________________________________________________________________________
In a Pastoral Emergency, please contact—The Reverend Rebecca A. Barnes, Priest-in-Charge at 646-533-1836 or via e-mail at mthrbarnes@gmail.com. If you or a family member are in the hospital, health care facility, or are home bound and would like to have a visit from a member of our Pastoral Care Committee, please contact the parish office. Due to the Health Insurance Portability and Accountability Act, commonly known as HIPAA, the hospitals no longer automatically provide churches with the names of admitted parishioners. St. Luke's church complies with all HIPAA requirements and cannot provide personal information for sick or injured members without permission of the member or his or her close family member.
Events at St. Luke's and around the Diocese
(Also see our page "This Week at St. Luke's" for up-to-date information on services and programs)
ANNOUNCEMENTS AND UPCOMING EVENTS
Christian Education and Formation
►Children
Resources for Children:  We have new welcome bags for our youngest attendees to enjoy during Mass. The bags are filled with sensory engaging toys and books and are available from an usher. Weekly lectionary materials are also available for our youngest members and visitors.
Sunday School: Sunday School Returns September 10, 2023! St. Luke's uses the GODLY PLAY, a Montessori-based curriculum with our younger children, ages five to ten years old. Sunday School is held at 9:30 AM every Sunday, except the first Sunday of the month. Please see Rick Ammenhauser or Mother Barnes to register your children for classes.
►Youth
This fall we will continue in the momentum of our Youth Confirmation Program and offer Journey to Adulthood (J2A) a youth ministry program of spiritual formation for 6th-12th grades. Fully revised and updated, it is centered on inclusive, relational ministry and uses Bible study, prayer, rites of passage, and outreach ministries. Creative, developmentally appropriate lessons are arranged within three categories of Self, Society, and Spirituality. For the benefit of our youth who have just been confirmed, we will use the 4Ward cohort of J2A which is an inclusive, engaging, relational youth ministry program in a two-year cohort for ages 15-18, concluding with the 4Ward ceremony. Stayed tuned for more information!
►Adult
Wednesday Bible & Book Study – Each week, following the 12:10 Healing Eucharist the Wednesday Bible/Book Study group meets at 1:15 PM. For the summer season, we will be reading Come Here, Jesus by The Rev'd Barbara Crafton and exploring how we experience him in each other through our ways of telling who he is and more importantly, in our ways of showing who he is. This is a great read for those who want to deepen their relationship with Jesus.
Beginning in September, the midweek Bible study will begin The Path: A Journey Through the Bible. The Path is the story of the Bible excerpted from the New Revised Standard Version so that it is clear and easy to read. Follow the path of God's love all the way from the beginning to the end from creation and John's revelation. With informative trail signs to help one see how each piece of the narrative fits together, The Path is an experience unlike any other: an amazing 360 degree overview of the vast, sweeping story of God's love for ordinary people.
The Path is available through Forward Movement (https://www.forwardmovement.org/); pdfs will be distributed for the weekly class.
Centering Prayer Group: Each Thursday evening at 5:30PM an ongoing weekly Centering Prayer group meets. Centering Prayer is a contemplative form of prayer geared toward the cultivation of interior silence or "centering." For more information, contact Mother Barnes at mthrbarnes@gmail.com.
►The Psychology of Christian Nationalism: Why People Are Drawn In and How to Talk Across the Divide by Pamela Cooper-White. On three Thursdays in September (Sept. 7, 14, and 28) at 7PM St. Luke's will conduct a study of Dr. Cooper-White's brilliant and courageous book. One chapter of the three chapter book will be covered each evening:
Sept 7 – Unholy Alliances: Christian Nationalism, White Supremacy, and the Pursuit of Power
Sept 14 – Why Are People Drawn In by Extremist Beliefs? Conscious Needs and Unconscious Lures
Sept. 28 – How to Talk Across the Divide: Creating Human Ties across (Extreme) Difference
---
►Are you Safe Church compliant?
Maintaining required training and clearances is vital because it helps us to keep all of the people in our congregations safe. Both Episcopal Church canons and Commonwealth of Pennsylvania laws require everyone who has contact with children and those with any sort of leadership position in the church to obtain background checks. Clergy persons, lay employees, vestry members, volunteers who works with children, Lay Eucharistic ministers, Altar Guild members, or keyholders in the church, must take steps in order to be in compliance with Pennsylvania law and the Episcopal Church Canons. These must be fulfilled in order to serve/be employed. The learning modules and Safe Church Training site have been recently updated. Learn more about what you need to do in order to be compliant and to keep your church safe. Contact Mother Barnes or Sharon Sollami with any questions or concerns about Safe Church compliancy.
---
►Wear Your Evangelism: Members of St. Luke's Fundraising Team will soon be taking orders for shirts and hats that feature two embroidered logos; one that incorporates the traditional winged ox with our motto, "In the heart of things"; and the other with the Episcopal shield with our parish name and location. The polos and baseball caps are available in more than a dozen colors and multiple sizes, including youth sizes. We are not limited in the ways to show our logos; we are also considering offering reusable bags, water bottles, knit hats, screen printed t-shirts, and sweatshirts as interest grows. Is our goal to raise money for the general fund? Yes. As important though is our desire to make St. Luke's folks easily recognizable to new comers at parish events, or as we serve in the community. Our logos are striking and will invite those who see them to ask about our parish and its ministries giving us all the opportunity to invite people to worship or to learn more about who we are and what we believe. Pricing information and order forms will be available soon. Check out the display in Kreitler Hall of available items. If you have questions, or would like to place an order, please see Mother Barnes, Mickey Baccoli, Rick Ammenhauser, Tom Zurla, and Sharon Sollami.
Social Justice and Community Ministry
►Holy Hikes Northeast Pennsylvania, a ministry of our parish, is planning a very special September 16, 2023 walk in support of all those who have been diagnosed with brain cancer, specifically Glioblastoma.
We are joining forces with Stachestrong, a 501(c)3 non-profit built on the core values of strength and togetherness. Organized in 2017, StacheStrong has raised over $3,000,000 for brain cancer research.
St. Luke's has registered its own team (St. Luke's Episcopal Church Scranton PA) to walk in a 5K at Vestal High School in Vestal, NY set for Saturday, September 16, 2023 at 3:00PM. You can support our team in three ways. You can participate in person; or join in virtually, or make a donation on behalf of our team.
Visit https://www.stachestrong.org and click on "Register for the 5K". From there you will have the option to join our team aptly named St. Luke's Episcopal Church – Scranton PA. Please note that even if you are not able to attend in person, you can help to raise funds by signing up for a virtual 5k. All participants (virtual or in person) will receive a StacheStrong t-shirt and will have a fundraising page created to help you solicit donations, all proceeds of which will be credited to our team and used to expand brain cancer research.
In the weeks to come, more information will be available about ways to support this effort. But in the meantime, please register for our team at https://www.stachestrong.org as soon as possible.
If you have any questions, please speak with Maria Zengion or email Sharon Sollami at sharonsollami@gmail.com
---
►Hawa'I Fire Response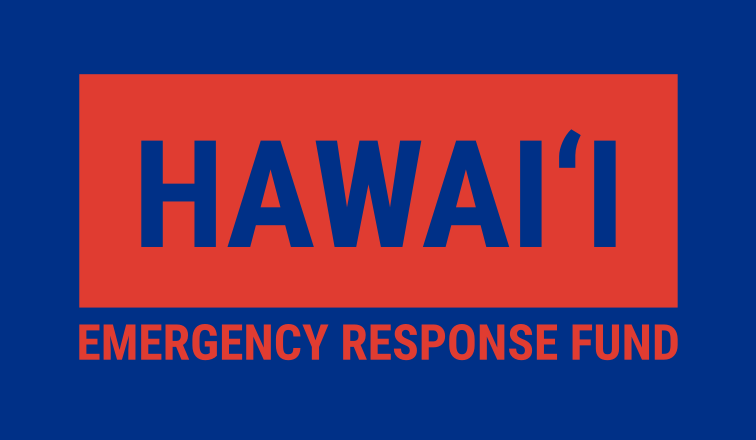 High winds from Hurricane Dora and drought conditions combined to accelerate the growth of brush fires that devastated the Lahaina community in Hawaiʻi. Episcopal Relief & Development is in contact with the Episcopal Diocese of Hawaiʻi in the wake of wildfires that have killed many people and displaced hundreds of families on Maui. They are calling on churches to help support the response. Please consider visiting episcopalrelief.org to make a donation today. Partner with Episcopal Relief & Development to provide support to people affected by the deadly fires in Hawaiʻi. Visit episcopalrelief.org to make a contribution.
---
►Friends Helping Friends – St. Luke's is again participating in Boscov's "Friends Helping Friends" fundraiser. You can purchase a 25% off shopping pass to be used in store on Wednesday, October 18, 2023 at all Boscov's stores; the $5.00 purchase price goes directly to St. Luke's general fund. The passes make a nice surprise gift for mom, daughter, grandma, aunt, or any special shopper in your life. With your purchase you'll be entered to win a $100 Boscov's gift card, too. The passes are available from any vestry member or in the church office. If you have any questions, or would like to help in selling the passes, contact Rick Ammenhauser at (570) 347-8681.
---
► Cypress House at St. Luke's
It is with great pleasure that we share with you the news that Cypress House at St. Luke's has been awarded a $25 000 grant from the Wyncote Foundation.
Cypress House has also received two other 50K grants in the past 12 months, one from the Our Lady of Victory Missionary Sisters, and one from the United Thank Offering (UTO) of the Episcopal Church.
On Saturday, August 26, the Cypress House Board, along with Vestry members of St. Luke's met for a day long Visioning Day. We look forward to commencing remodeling of our church kitchen shortly and launching our re-entry bakery ministry. Please continue to hold us in your prayers as we work together to build the Beloved Community and make this dream a reality.
Please consider a donation to Cypress House by visiting www.cypresshouse.org
---
Upcoming Concerts at St. Luke's and beyond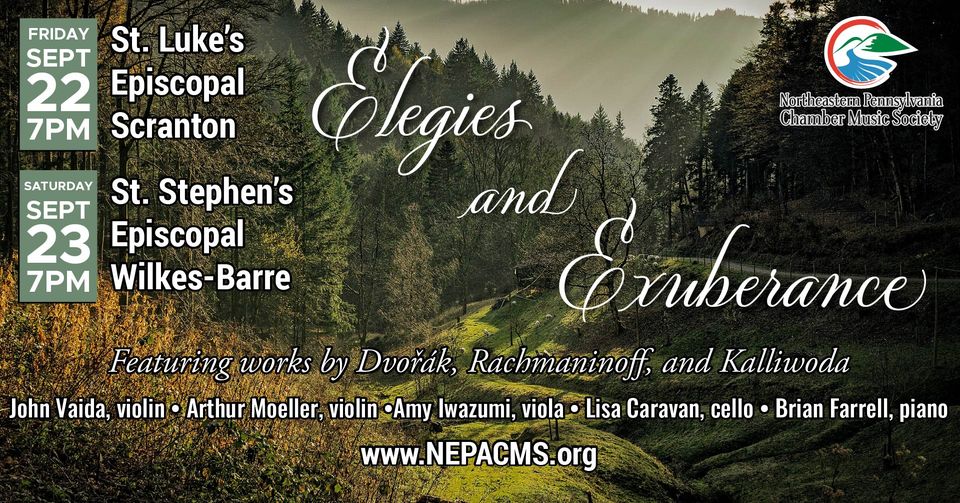 ---
PAST EVENTS AND SERVICES
►Interfaith Power & Light Annual Conference: Scranton/NE PA Sessions
The Congregation of the Sisters, Servants of the Immaculate Heart of Mary:
Welcoming Space, 2300 Adams Avenue, Scranton, PA 19509
CONNECTING ENVIRONMENTAL JUSTICE & ENVIRONMENTAL LAW
Session #1, 2:00 – 2:50pm, Emily Holtsmaster, PA IPL
INTEGRATING ORGANIC FARMING & THE PERFORMING ARTS
Session #2, 3:00 – 3:50pm, Tannis Kowalchuk, Willow Wisp Farm
►Provide relief and help communities recover from flooding and fires
Deadly flooding and fires in southern and western parts of the US are displacing thousands and creating a financial burden on the most vulnerable. Episcopal Relief & Development is working with church and local partners to provide help where it's needed the most. Your swift response and compassionate gift to the Episcopal Relief & Development Disaster Fund will provide supplies to help communities in Kentucky, Virginia, Missouri, California and other places make a full and sustained recovery. Visit episcopalrelief.org to make a contribution today.
____________________________________________________________________________________
►Children's Christian Education and Formation
Classes at St. Luke's began in September. We will be using a special youth focused curriculum J2A – Journey to Adulthood. Bishop Kevin will be with us for Confirmation on Trinity Sunday, June 4, 2023. More detailed information about confirmation classes and registration will be sent out soon.
Sunday School resumed on Sunday, September 11, 2022!
Sunday school classes commenced on Sunday, September 11 at 9:30am. We began the fall season with Episcopal Communion instruction for our youngest children who received Holy Communion (some for the first time) on the Feast of St. Luke's, Oct. 16, 2022. Following our special Eucharistic program, we will resume with Godly Play, a Montessori-based curriculum with our younger children, ages five to ten years old.
Beginning in the fall, we are also offering Confirmation preparation for our older youth. We are using the program "My Life, My Faith." For more information, to enroll your child, or to learn more about serving in the Sunday school program, please see Mother Barnes or email her at mthrbarnes@gmail.com or Rick Ammenhauser at imgold67@aol.com
See our Children and Youth page for more offerings including resources for talking with kids about the challenging issues of our time.
Resources for Children: We have new welcome bags for our youngest attendees to enjoy during Mass. The bags are filled with sensory engaging toys and books and are available from an usher. Weekly lectionary materials are also available for our youngest members and visitors.
_____________________________________________________________________
►Adult Christian Education and Formation
Lenten Retreat at Holy Cross Monastery – In March (March 21-24, 2023) a parish Lenten retreat is planned Holy Cross Monastery in the New York Hudson Valley. The suggested donation for the three days is $330 per person which will cover all lodging, program costs, and meals including breakfast and dinner the day of departure. Space is extremely limited and filling up fast! Please contact Mother Barnes ASAP to reserve a spot. Scholarship for those in need is available upon written request.
_________________________________________________________
Voce Angeli Concert: Each year, Voce Angeli, a premier women's choral ensemble in Northeastern Pennsylvania presents a summer concert with proceeds benefiting a local charity. This year's concert is set for Saturday, August 13, 2022 at 7:30PM at St. Luke's and the benefactor is the Catherine McAuley Center, an agency that provides temporary shelter for women with children in crisis. Mark your calendars for this wonderful summer event. There will be a free will offering for this concert; suggested donation is $10.00
March for Our Lives is marching in multiple locations throughout NEPA! Born out of a tragic school shooting, March For Our Lives is a courageous youth-led movement dedicated to promoting civic engagement, education, and direct action by youth to eliminate the epidemic of gun violence.
Action Together NEPA will rally on June 11th, to help put a stop to gun violence and March For Our Lives! The Scranton March will begin at the Steamtown Mall across from the State Building. Anyone from St. Luke's that wishes to join in and go together may meet at the church at 10:30.
► A Christian Ed Offering with St. Ignatius of Antioch, NYC
From St. Ignatius – "As we continue to mark our Sesquicentennial, starting this coming Tuesday, June 7 our former assistant rector, the Rev'd Rebecca A. Barnes will begin a two part (four class) series on the history of Anglo-Catholicism, the Ritual Movement, and the early years of the Church of Saint Ignatius of Antioch, through the mid-1920s. The first two classes in June will discuss the ritual movement and the September classes will cover the rectorships of our founder, Fr Ewer, and his successor Fr Ritchie. Mother Barnes received her Master of Divinity and Master of Sacred Theology degrees from the General Theological Seminary, writing her M.Div. thesis on this very subject. She is presently Rector of Saint Luke's Episcopal Church in Scranton, PA. The class will be held on Zoom immediately following Evening Prayer and in the same Zoom meeting: https://www.saintignatiusnyc.org/DailyOffice All are invited to join!"
MARY MAGDALENE " APOSTLE TO THE APOSTLES" – AN EASTERTIDE RETREAT DAY with DEIRDRE GOOD.
On Saturday, April 23, 2022 St. Luke's held a retreat day on Apostle to the Apostles -An Eastertide Retreat Day on Mary Magdalene with Dr. Deirdre Good.
To view the video of the retreat click here (Passcode is John20:1-18 )
Deirdre Good, (Th.D. Harvard Divinity School), is a renowned Biblical scholar and professor of New Testament specializing in the synoptic Gospels. Born in Kenya, she grew up in the U.K., taught as Assistant Professor at Valparaiso University, as Associate Professor at Agnes Scott College, as Professor and Academic Dean at The General Seminary for 28 years, and now lives in Maine. She is a licensed lay preacher in the Diocese of Maine and a faculty member of the Stevenson School of Ministry in the Diocese of Central PA.
Fridays in Lent:
On Friday, March 4, at 7:00 PM (and continuing at this time on Friday evenings throughout Lent) we will pray the Stations of the Cross followed by Compline.
Lenten Loaves and Lessons: Join fellow parishioners at 6PM for a light Lenten supper of soup and bread with reflection on select themes from Episcopal Relief and Development's Lenten meditations. Stations and Compline follow at 7PM.
Lenten Retreat Day – Centering Prayer Introductory Workshop – An Introductory workshop will be offered throughout the season of Lent beginning with a workshop on Saturday, March 5, 2022 from 10 am-3:30 pm. A light lunch will be served (Free-will donations are requested to defray the cost of the meal), or a brown bag lunch may be brought. Follow-up sessions designed for ongoing learning and group spiritual support will be held at the regularly scheduled Thursday evening Centering Prayer group gatherings on March 10, 17, 24, 31 and April 7. The workshop will be presented by The Rev'd Rebecca Barnes who is a commissioned presenter with Contemplative Outreach, Ltd. For more information, please contact Mother Barnes at mthrbarnes@gmail.com or call the parish office.
Centering Prayer Group: Each week an ongoing weekly Centering Prayer group meets at St. Luke's. Centering prayer meets on Tuesdays at 5:30 pm. Centering Prayer is a receptive method of silent prayer that prepares us to receive the gift of contemplative prayer, prayer in which we experience God's presence within us, closer than breathing, closer than thinking, closer than consciousness itself. This method of prayer is both a relationship with God and a discipline to foster that relationship. Centering Prayer emphasizes prayer as a personal relationship with God and as a movement beyond conversation with Christ to communion with Christ. Weekly sessions will include prayer, a contemplative walk, and study writings from the Christian Contemplative tradition. During Lent, the Six Follow-up Sessions to the Introductory Workshop will be offered. No prior experience is necessary. For more information, please contact Mother Barnes at mthrbarnes@gmail.com or call the parish office. (Centering Prayer group meets each Thursday at 5:30 BOTH IN THE CHAPEL AT ST. LUKE'S AND ON ZOOM. To access the "zoom chapel" click here. Click here for a brochure on The Method of Centering Prayer. )
Christian Education and Formation
Ten Commandments Class
Rabbi Daniel Swartz of Temple Hesed, Scranton and Mother Barnes are partnering to teach a class on The Ten Commandments. They will take an in-depth look at the commandments that are central to Judaism and Christianity.
The ten-week program will be held at noon on Sundays beginning on Sunday, February 6, 2022 and continuing through April 10, 2022. The first five commandments will be taught at Temple Hesed and the last five at St. Luke's. The class will also be a hybrid offering on Zoom. The planned text for the classes are Inscribed Encounters with the Ten Commandments, Rabbi Oren J. Hayon, editor and The Ten Commandments for Jews, Christians, and Others, Roger E. Van Harn, editor and can be purchased through your favorite bookseller.
If you have any questions, or to obtain the password for the Zoom meeting, please contact Mother Barnes at St. Luke's (570)342-7654 or Rabbi Swartz at Temple Hesed, 1 Knox Road, Scranton, 570.344.7201.
PYZANKY AND PRAYER -Ukrainian Easter egg making and prayers for Ukraine.
On Tuesday, March 29th from 6 to 8 PM, we will have the unique opportunity of gathering for a time of learning the art of Pyzanky – Ukrainian Easter egg making – and joining in prayers for Ukraine.
"Pysanky are made using a wax-resist dye method, which requires the eggs to be dipped in different-colored dyes from lightest to darkest with melted beeswax applied between layers with a design tool called a kistka. The beeswax preserves the color underneath when dipping the eggs in new colors. Once the designs are complete, the wax is melted and scraped off, revealing the final designs."
Our instructor will be Tammy Budnovitch, who is a member S.S. Cyril and Methodius Ukrainian Church in Olyphant who has been teaching this art for several years. The cost is $25 and includes all supplies. Attendance is limited to 12 people and will be on a first come first serve basis. Please email mthrbarnes@gmail.com to register.
______________________________________________________________________________
NEPA PHILHARMONIC CHAMBER CONCERT: BEETHOVEN'S BELATED BIRTHDAY BASH!
Celebrate Beethoven's belated 250th birthday with his soul stirring G Major String trio along with some surprise party guests! Featuring NEPP violinist Sasha Margolis, violist David Creswell, and cellist Alberto Parrini, this concert celebrates the 150th Anniversary of St. Luke's current church on Wyoming Avenue. THURSDAY, MARCH 24, 2022 | 7:00PM.
_________________________________________________________________________________
By the Grace of God and with the Consent of the People
The Right Reverend Kevin D. Nichols, Bishop of Bethlehem will ordain
Elizabeth Grohowski
to the Sacred Order of Priests In Christ's One, Holy, Catholic and Apostolic Church
Saturday, February 26, 2022 at Eleven O'clock a.m.,
St. Paul's Episcopal Church,
276 Church Street,
Montrose, Pennsylvania
Your prayers and virtual presence are requested
Black History Month Events
Kick off Black History Month by joining us next door at the Ritz Theatre on February 1 at 6pm for a showing of the riveting documentary "My Name is Pauli Murray."
The film is free, a free will offering will be taken,
Released last fall, this film captures her personal path and tireless advocacy that foreshadowed some of the most politically consequential issues of our time. The New York Times (Sept 15, 2021), said of the documentary, "When the lawyer, activist, author and educator Pauli Murray died in 1985 at the age of 75, no obituary or commemoration could contain all of her path breaking accomplishments. A radical and brilliant legal strategist, Murray was named a deputy attorney general in California — the first Black person in that office — in 1946, just a year after passing the bar there. Murray was an organizer of sit-ins and participated in bus protests as far back as the 1940s, and co-founded the National Organization for Women. Murray was also the first Black woman to be ordained an Episcopal priest. In 2012, she was sainted. "My Name Is Pauli Murray," aims to introduce Murray to the masses. Made by the same Academy Award-nominated filmmakers behind the surprise hit "RBG," it uses Murray's own voice and words as narration, drawn from interviews, oral histories and the prolific writing — books, poems and a collection of argumentative, impassioned and romantic letters."
Presented by EDS at Union
Join us on Thursday, February 10th from 6:30 – 7:30 PM ET, as we celebrate Black History Month and honor the life of Absalom Jones, whose feast day is February 13th. Dean Kelly Brown Douglas will host a panel discussion with Bishop Shannon MacVean-Brown, Episcopal Diocese of Vermont; Bishop Kevin Nichols, The Episcopal Diocese of Bethlehem; and Bishop Robert Wright, Episcopal Diocese of Atlanta. RSVP for this virtual event here (https://ssl.charityweb.net/eds/event/absalom.htm). As the Episcopal Church's first African American priest, the Rev. Absalom Jones' story is one of resilience, struggle, and powerful witness. Our panel will reflect on the life of Rev. Absalom Jones and the significance of his witness for our Church and nation today.
Presented by Diocesan Racial Justice and Reconciliation Task Force
Thursday February 10 at 7:00 pm (virtual)
For our Common Life Session 3 with Dr. Sandra Montes
Theme: To be or not to be: God's Beloved Community
Sunday February 27 at 5:00 pm at Nativity Cathedral
Holy Eucharist to celebrate Blessed Absalom Jones and Black History Month.
Stories of our People Video Clips
Short videos highlighting the stories and experiences of Black members in our diocese. These will be posted on our social media platforms.
FOR OUR COMMON LIFE (see announcement tab on this website for more information)
A few updates:
1) Both videos of the interview with Canon Spellers have been uploaded to our YouTube channel: Diocese of Bethlehem.
Feel free to share it with your congregations.
2) Join us this Wed. Dec. 15th at 5:30pm on our Diocesan Facebook Page for a Live conversation with Bishop Kevin as we continue to reflect on key takeaways from our first session. More in Common: Conversations for our Common Life with Bishop Kevin.
Mission: Joy – How to Find Happiness in Troubled Times.
Join St. Luke's on Monday at 6:30PM in Kreitler Hall as we wrap up Black History Month with a presentation of "Mission: Joy." "Mission: Joy" is an enlightening, peek-behind-the-curtain, 90 minute documentary built around an historic 5-day meeting between two of the world's most consequential spiritual leaders – His Holiness the Dalai Lama and Archbishop Desmond Tutu. Born a world apart, both Nobel Laureates, the two men, one a Buddhist the other Christian, met here to celebrate their improbable friendship and share their hard-won wisdom about a wide range of issues from love, karma, guilt and forgiveness to joy, faith, meditation and reincarnation.
You can view the Mission: Joy trailer at: https://www.youtube.com/watch?v=_nlUl5yNgIE
____________________________________________________________________________________
►St. Luke's Holy Hikers
On Saturday, October 16th we concluded this year's hikes by walking The Leigh Gorge Trail (Rockport trailhead) which was an easy walk adjacent the Leigh River with stunning views that should be in peak fall color. We invite everyone to join us again next May when we commence our second season. Have any ideas for a walking/hiking locations of want more information on the St. Luke's Holy Hikers? Please contact David Wegner at drwegner@epix.net or Mother Barnes at mthrbarnes@gmail.com
►Episcopal Migration Ministries
Episcopal Migration Ministries (EMM), the refugee and migration ministry of The Episcopal Church, needs your support to welcome our Afghan allies to communities across the country. EMM is one of nine national refugee resettlement agencies tasked with the challenging and life-saving work of supporting Afghans who arrive with parolee status. The Afghan Parolee Services program provides very limited support only for parolees first 30-90 days; your donations can ensure they have a safe place to live and access to basic needs during and beyond that period. EMM will need to provide at least $3,000 worth of housing and cash assistance for each person arriving on parolee status.
How You Can Help:
►Episcopal Relief & Development Aid for Haiti: On Saturday, August 14, a 7.2 magnitude earthquake struck the southwest portion of Haiti. This devastating earthquake was followed by Tropical Storm Grace on Monday night and much of Tuesday. More than 1 million people, including more than half a million children, have been impacted by the back-to-back disasters, and the death toll is close to 2000. Episcopal Relief & Development and its partners are responding immediately with direct assistance to vulnerable households in the region, as partners plan long-term recovery. Your generous gift can provide assistance to help people in the wake of these disasters. To assist in these efforts, visit episcopalrelief.org/haiti-relief.
►Have a green thumb? The Warren Memorial Garden Committee welcomes volunteers to help out with their monthly care of the garden. Have questions? Please speak to Mickey Baccoli, Senior Warden or email David Wegner at drwegner@epix.net
►Cypress House at St. Luke's Awarded Becoming Beloved Community Grant
Cypress House at St. Luke's was notified this week that we have been awarded a 2021 Becoming Beloved Community grant by the Executive Council of the Episcopal Church. The $9,000 award will support the ongoing development of our Cypress House Bakery Prison Re-Entry Program.
The entire system of mass incarceration is one of the most egregious examples of racial injustice in our country today. The parole and probation programs continue that injustice even upon release from prison. The rate of minority incarceration in Lackawanna County is the highest of any county in the Northeastern quadrant of the U.S. Cypress House aims to repair the breach in our society by assisting men and women post-incarceration with a return to life on the outside. In addition the presence of Cypress House in the community of Scranton will help bring awareness to the issues surrounding mass incarceration.
The grant that we have been awarded is a seed grant to help us grow into the work of Becoming Beloved Community.
150 YEARS ON WYOMING AVENUE
On Friday, July 2, 2021, St. Luke's celebrated the 150th Anniversary of our current church building. Celebration include an Anniversary Eucharist at 6PM, and an open house with tours and exhibits. Outdoor festivities included refreshments, games and activities for children and families and a jazz band. Photos of the evening's celebration will be posted soon. Sincere thanks to all who made this evening's celebration possible!
Click here to view the Anniversary Eucharist.
Click here to view Bp. Kevin's greeting and blessing.
St. Luke's Episcopal Church, Wyoming Avenue Scranton 150th Anniversary Virtual Tour is available here
Our special edition of the St. Luke's Newsletter is available here: July 2021 Special 150th Anniversary Edition.
►Working Together for Change
The Scranton Area Ministerium in collaboration with the Greater Scranton Martin Luther King Commission is holding a multi-session workshop entitled "Working Together for Change: How to Advocate for Racial Justice."
This series will take place on October 14, 21, 28, and November 4 by Zoom and on November 11, 2021 in person 7:30-8:45. This series will feature speakers and facilitators Itzel Hayward and Kathy Simon from Attuned Living to discuss how to be an effective ally, learn non-violent communication, and advocate for racial justice. The final session will be held at the Jewish Community Center, 601 Jefferson Ave., Scranton, PA and will be led by Rabbi Miriam Spitzer of Temple Israel and Mother Rebecca Barnes of St. Luke's Episcopal Church.
This is a unique opportunity to come together across religious traditions, cultures and experiences to:
Step out of our comfortable silos, come together as Scranton faith communities
Challenge everyday biases in ways that encourage conversation
Talk about deeply charged topics with openness and clarity
Step into your power to create a more just world
Registration and donations will offset the cost of the program.
Here's a free video by our facilitators to introduce you to the kind of work this program will cover.
Registration is available at the following link:
► Every Stitch Counts: Works from the Social Justice Sewing Academy and Bold Independence: African American Quilts from the Collection of David Whaley – October 23, 2021at 1PM
St. Luke's will offer a special intergenerational outing to the Everhart Museum on Saturday, October 23 at 1PM. We will be given a special group tour led by the new Executive Director, Kathy Johnson Bowles. Special focus will be on two current exhibits: Every Stitch Counts, developed by the Everhart Museum in conjunction with the Social Justice Sewing Academy (SJSA), a national youth education program that bridges artistic expression with activism to advocate for social justice, this exhibition features textiles created by either individual artists or collectives highlighting social justice issues that have affected the artists, their families, and their communities. The powerful images create unique narratives addressing issues such as racism, gun violence, education, immigration, and poverty. The second and related exhibit, Bold Independence features quilts made during the second half of the 20th century by eleven African American women from Mississippi and Alabama. A number of the works are by the famous Gee's Bend quilters and a majority were produced in the Black Belt region of Central Alabama. Please call the St. Luke's parish office at 570-342-7654 to register to attend. This will help us and the staff at the museum prepare for our visit.
►Lift Every Voice and Sing Churchwide Revival
The Union of Black Episcopalians (UBE) invites all to join a virtual churchwide revival July 27-30 that will feature stirring music, testimonies, learning, and messages from Episcopal Church Presiding Bishop Michael Curry and others.
For four nights, Black Episcopalians will lead The Episcopal Church in worship and preaching. All services will be livestreamed.
The UBE revival also includes daytime sessions featuring panel and group discussions, prayer, and fellowship opportunities.
To register go to https://www.episcopalchurch.org/episcopal-revivals/ube-revival/
Diocese of Bethlehem Juneteenth Celebration
Saturday June 19th, 2021at 3PM via Facebook live. Click here to view
Juneteenth ("June" plus "nineteenth") is a day that marked the beginning of the journey towards justice, accountability, and reconciliation in the United States. On June 19, 1865, Union General Gordon Granger arrived in Galveston, Texas. That day he informed enslaved African-Americans of their freedom and that the Civil War had ended. This announcement gave voice to the written words of the Emancipation Proclamation, which had been issued more than two and a half years earlier in 1863 by President Abraham Lincoln.
Juneteenth is a day for followers of Jesus to be reminded of their Baptismal Covenant to "strive for justice and peace among all people and respect the dignity of every human being." It is a day for churches and faith communities to gather together to learn, pray, and continue the work of justice and reconciliation. A day such as this one provides an excellent opportunity for transformation. We must take advantage of the moment we are in to actively listen through honest and transparent dialogues that strengthen our faith and our connections to one another.
LENTEN ADULT BOOK STUDY: Jesus and the Disinherited – On Tuesday evenings in Lent at 7PM, our seminary intern, James Smurl will lead us in a discussion of Howard Thurman's classic theological treatise. "Howard Thurman (1900-1981) demonstrates how the gospel may be read as a manual of resistance for the poor and disenfranchised. Jesus is a partner in the pain of the oppressed and the example of His life offers a solution to ending the descent into moral nihilism. Hatred does not empower–it decays. Only through self-love and love of one another can God's justice prevail." This book study will be held on Zoom. Click here to join the discussion!
LECTIO DIVINA LENTEN VIRTUAL RETREAT DAY: On Saturday, March 13 from 10am-2pm, Mother Barnes will lead a virtual retreat on the spiritual practice of Lectio Divina. Lectio Divina, literally meaning "divine reading," is an ancient practice of praying the Scriptures. During Lectio Divina, the practitioner listens to the text of the Bible with the "ear of the heart," as if he or she is in conversation with God, and God is suggesting the topics for discussion. Join us to learn more about this traditional way of cultivating a relationship with Christ through reflection on His word that leads beyond mere acquaintanceship to an attitude of friendship, trust, and love. To register, please email Mother Barnes at mthrbarnes@gmail.com
Diocese of Bethlehem Black History Month Series.
From Many, One: Conversations Across Difference
Starting January 18 (Martin Luther King Jr. Day), The Episcopal Church launches "From Many, One: Conversations Across Difference," a campaign urging Episcopalians and our neighbors to engage in the spiritual practice of listening and honest conversation across the many differences that separate us, starting with four simple questions:
What do you love?
What have you lost?
Where does it hurt?
What do you dream?
Inspired by the Latin phrase on the U.S. seal – E Pluribus ("from many") Unum ("one") – the campaign is designed to offer a faithful perspective and time-tested practice for knitting deeply divided communities into a diverse, more perfect union. In a cultural moment shadowed by pandemic, fractious politics, and deep division within families, communities, and nations, Episcopalians can partner in simple ways to celebrate difference, listen with deep curiosity, and promote healing.
"I have never been more profoundly aware of the need for passionate and practical commitment to the way of unselfish, sacrificial love that Jesus taught," Presiding Bishop Michael Curry said. "Conversations with others across difference is not just a nice thing to do. It is a spiritual practice of love in action. It's how we reknit the fabric of our democracy and the human family of God."
Listening, adapting, and leading in tense cultural times is deep in the Church's DNA.
"From Many, One" is designed to be simple and transformative. It is geared toward individual people talking to other individuals, although congregations may join, too. Participants are encouraged to follow these steps:
Learn about The Four Questions and related wisdom at www.episcopalchurch.org/from-many-one
Watch videos of people modeling The Four Questions
Sign up and set a conversations goal
Have the conversation(s)
Pray for your partner
Contribute to the "From Many, One" story space with insights, video/audio highlights, a poem, prayer or image inspired by your conversation(s)
Check out partner efforts like Braver Angels: With Malice Toward None, Civil Discourse Course, Sacred Ground, and The People's Inauguration
Join the Easter campaign celebration with a special online worship and sharing time
"We hope people understand this is only scratching the surface of the practice and learning that we're called toward," said Rev. Melanie Mullen, the church's director of Reconciliation, Justice and Creation Care, one of the departments that collaborated to shape the campaign. "Our goal is to point people toward partner efforts that meet you where you are: for more simple conversation, further learning, deeper reckoning and/or action. More than that, we hope people see this as part of a life-long commitment to creating beloved community."
For more information on the "From Many, One: Conversations Across Difference" campaign, contact the Rev. Canon Dr. Stephanie Spellers, canon to the Presiding Bishop for Evangelism, Reconciliation and Creation Care, sspellers@episcopalchurch.org or 212-716-6086, or Sarah Alphin, associate for Evangelism, Reconciliation and Creation Care, salphin@episcopalchurch.org or 212-716-6102.
_________________________________________________________________________
Thursday, January 21, 2021
For a copy of the service leaflet for the National Prayer Service from Washington National Cathedral click here.
Monday, January 18, 2021
7PM Interfaith Service in Honor of Dr. Martin Luther King, Jr. – Scranton Area Ministerium.
A service program is available at the link below:
https://stlukescranton.org/…/SAM-MLK-Commemoration-2021…
MONDAY, DECEMBER 21, 2020
7pm Interfaith "Longest Night" Service
This service is designed especially for those who have experienced loss, especially in this pandemic year, or find the holidays difficult. This years' service will be an interfaith service offered by the Scranton Area Ministerium and will be live-streamed.
Prayers and Litanies and Devotional Resources
Prayers for Self, Church, Community, and World Amidst the Coronavirus Pandemic (The Episcopal Church)
Prayers : For Use During the Coronavirus Outbreak (Church of England)
A Pandemic Prayer Litany for Health Care Workers (St. John's, Boulder)
A Pandemic Prayer Litany for Police Officers and First Responders (St. John's, Boulder)
A Prayer for Peace in Our Streets (from dailyoffice.org)
Holding on to Hope
A National Service for Healing and Wholeness – Live from Washington National Cathedral – Sunday, November 1, 2020, 4-5:30PM
Presiding Bishop Michael Curry led a live-streamed prayer service from Washington National Cathedral, Holding on to Hope: A National Service for Healing and Wholeness, on All Saints Sunday, November 1, at 4:00-5:30 p.m. EST. In the midst of a pandemic, racial reckoning, and a historic election, the live-streamed service gathered Americans for prayer, song, lament, hope, and a call to love God and neighbor. The event was simulcast in English and Spanish.
Resources on Race and Racism
"Can you yearn enough for Church; can you yearn enough for Jesus."
Bishop Kevin expresses his support of Kelly Brown Douglas, Stephanie Spellers, and Winnie Varghese, and encourages everyone in the diocese to read their message, "Speaking of Freedom," and reflect upon this moment.
Here is their written statement.
https://dfms-my.sharepoint.com/…/EWobhXqaQGVPogF-T-ysGXkBoN…
In this video they read the statement and discuss.
Please, I urge you to read, mark, learn and inwardly digest. This is a call to the Church, to us Episcopalians, to BE CHURCH.
In peace,
Mother Barnes
__________________________________________________________________________
White Fragility
In this "vital, necessary, and beautiful book" (Michael Eric Dyson), antiracist educator Robin DiAngelo deftly illuminates the phenomenon of white fragility and "allows us to understand racism as a practice not restricted to 'bad people'" (Claudia Rankine). Referring to the defensive moves that white people make when challenged racially, white fragility is characterized by emotions such as anger, fear, and guilt, and by behaviors including argumentation and silence. These behaviors, in turn, function to reinstate white racial equilibrium and prevent any meaningful cross-racial dialogue. In this in-depth exploration, DiAngelo examines how white fragility develops, how it protects racial inequality, and what we can do to engage more constructively."
To purchase the book visit: http://www.beacon.org/White-Fragility-P1346.aspx, or purchase here as a pdf.
Here is another good book on racism that is free right now – Me and White Supremacy And here's a workbook to accompany it.
And a good article from Psychology Today – The Psychology of Rioting: The Language of the Unheard.
___________________________________________________________________________
For those who still wish to view our Holy Week at Home booklet – Click here to access a full service booklet of resources which were used for observing Holy Week at Home. These may be used in the home by individuals and families. St. Luke's supplemented these with the streamed services which are still available on our parish Facebook page.
If you haven't used Zoom before, we encourage you to watch this video in advance. Want to know more about how to find a live stream on Facebook? Click here.
_________________________________________________________________________