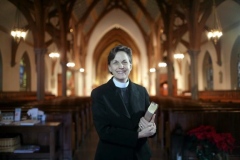 The Reverend Rebecca A. Barnes, a native of Northeastern Pennsylvania, was called as Priest-in-Charge of St. Luke's Episcopal Church in November of 2015. She previously served as Vicar of  Holy Trinity Church, Inwood, in New York City, and as Assistant Rector of St. Ignatius of Antioch Church on Manhattan's Upper West Side.
(Photo: Jake Danna Stevens, AP)
Mother Barnes is a graduate of the General Theological Seminary, New York City where she earned a Master of Divinity degree, cum laude, and a Master of Sacred Theology degree. She also holds Bachelor of Arts degree in Music and German from Hartwick College, Oneonta, New York and a Master of Music degree in Vocal Performance from the Manhattan School of Music in New York City.
Walking with people and helping them deepen their faith and a greater awareness of God's presence is a passion for her. She is particularly drawn to social justice ministry, outreach, pastoral care, and contemplative spirituality and prayer.
Since coming to St. Luke's, she has worked with the parish in establishing a separate 501(c)3, Cypress House at St. Luke's and serves as its President and CEO. The mission ministry of Cypress House at Saint Luke's is to offer social services in the greater Scranton area. Its inaugural project will be a bakery modeled after Homeboy Industries of LA that will be a prison re-entry program.
Mother Barnes serves on the Commission for Ministry, and the Commission for Liturgy and Music of the Episcopal Diocese of Bethlehem. She is a commissioned presenter of Centering Prayer and Certified Facilitator Trainer with Contemplative Outreach, Ltd. 
She is also active in the greater community and currently serves as president of the Scranton Area Ministerium; is a commissioner on the City of Scranton Human Relations Commission; a member of the Citizen's Advisory Committee; Chaplain of the NEPA Chapter of the American Guild of Organists and serves on the board of the Northeastern Pennsylvania Choral Society. Her hobbies include traveling for religious pilgrimage or leisure, photography, and history.
Below is a link to a story on The Rev'd Rebecca A. Barnes that ran in the Scranton Times-Tribune.
http://thetimes-tribune.com/lifestyles/throop-resdent-combines-love-of-music-ministry-at-st-luke-s-church-1.1996998
---