St. Luke's is a parish in the Episcopal Diocese of Bethlehem, a community of thousands of faithful people and dozens of places of worship in northeastern Pennsylvania.
For more information on the Diocese of Bethlehem, please visit the Diocesan website at https://diobeth.org/ or the Diocesan Facebook page at https://www.facebook.com/DioceseOfBethlehem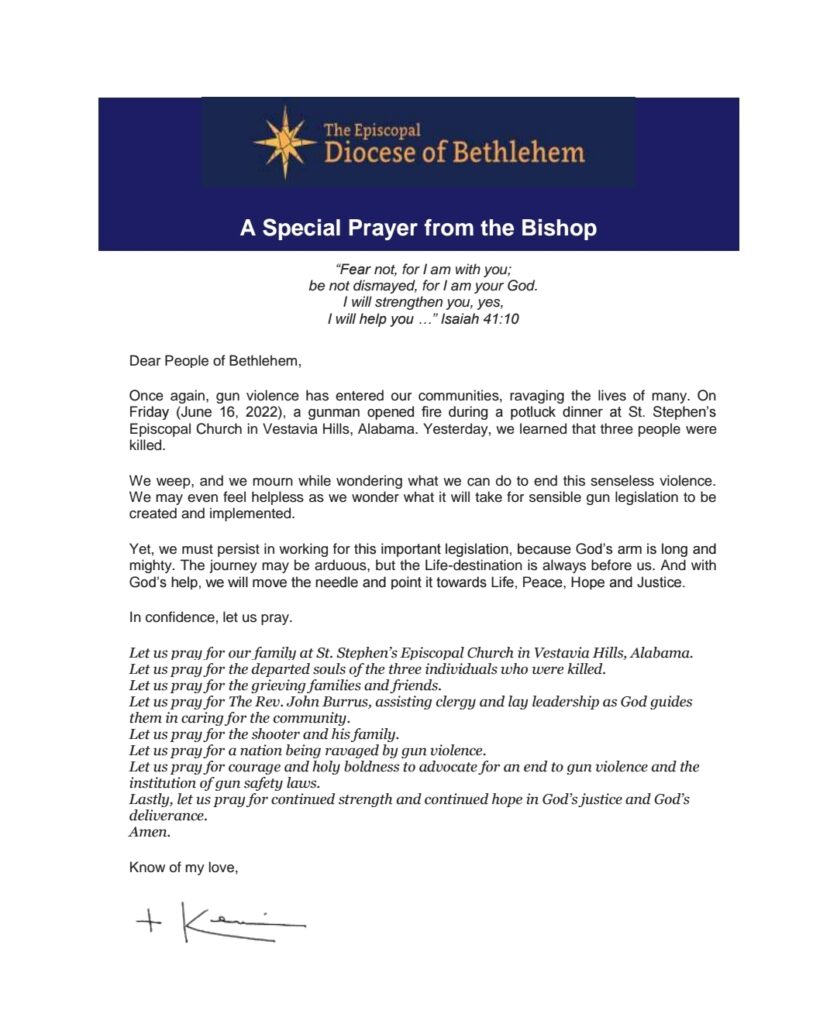 A Statement from Bishop Kevin
January 7, 2021
Dear beloved of the Diocese of Bethlehem,
Even there your hand will lead me
and your right hand hold me fast.

If I say, "Surely the darkness will cover me,
and the light around me turn to night,"

Darkness is not dark to you;
the night is as bright as the day;
darkness and light to you are both alike.
Psalm 139:9-11
We awakened this morning attempting to make sense of the events that transpired yesterday at the U.S Capitol. This moment exemplifies the moral crisis that is before us and our nation like no other.
Witnessing what is being characterized as an insurrection or failed coup attempt enflamed by the words and actions of our President is incomprehensible to me.
I am heartbroken by the bloodshed and destruction. From the Prophet Jeremiah we hear: "Let my eyes stream with tears day and night, without rest, over the great destruction" (Jeremiah 14:17). One image remains most disturbing for me: the Confederate flag paraded through the halls of Congress. Our legacy of White Supremacy was on display for the world to see, highlighting once again the racial injustice that exists in our nation.
As day turned into night, and some semblance of order was restored, once again I was dismayed. How is it possible that some members of Congress, even after the Capitol was breached, would continue to support the lies and conspiracies that fueled the day's events? A 2:00 a.m. rehashing of our Pennsylvania Election laws was beyond unconscionable.
Friends, as I stated in my Christmas message, we must aid in God's Way by finding bridges where we can bring light! We are called to be consolers, justice seekers and prophets of a new moment. We walk with a God that makes a way always out of no way!
Let us continue to pray for our Nation, Diocese and local communities. May we work tirelessly towards becoming more of the Beloved Community.
Father of light, unchanging God,
Today you revealed to people of faith
the resplendent fact of the Word made flesh.
Your light is strong,
your love is near;
draw us beyond the limits which this world imposes,
to the life where your Spirit makes all life complete.
We ask this through Christ our Lord.
Amen
Know of my love,



Bishop Kevin