St. Luke's is an inclusive, historic parish in downtown Scranton with a rich history of musical excellence. We understand the importance of music as an integral part of our liturgy and worship. We value our affiliations with numerous musical and performing art organizations in Scranton including, the Lyric Consort, Arcadia Chorale, the Choral Society of Northeastern Pennsylvania, and the NEPA Philharmonic. The pipe organ in St. Luke's is a 1964, 24 rank, 3-manual, M. P. Möller instrument (Op. 9916).
The music program at St. Luke's Church encompasses the many great singing traditions of the Anglican Church, from the simplistic elegance of the Plainsong Psalter to the sublime complexity of the polyphonic Choral Mass. Anthems are integrated thematically within the Eucharist and are sung by St. Luke's professional quartet.  The quartet, under the direction of Maria Zengion, organist and choirmaster, dedicates themselves to the discipline of historically informed performance practice of polyphonic music.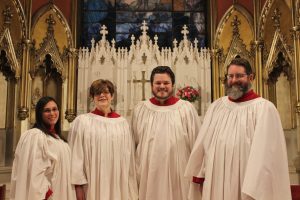 Lauren Piccotti, soprano, Carol Curtis McMullen, alto, Max Roache, tenor, and Francis Carroll McMullen, baritone.
As St. Luke's congregation continues to grow, we hope to further develop our Music Ministry.
 _____________________________________________________________________________________________________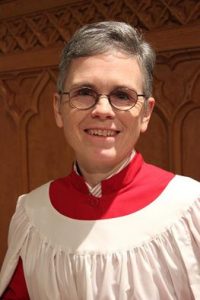 Maria Zengion, St. Luke's Organist and Choirmaster returned to St. Luke's in Advent 2016. Maria has served as organist at numerous churches including St. Peter's Cathedral, Scranton, and Grace Episcopal Church, Honesdale. She holds a Bachelor of Music degree from Westminster Choir College, Princeton, NJ, specializing in Organ Performance. Upon admission to Westminster Choir College she received the Alexander McCurdy Award for excellence. She also holds a Master of Music Degree in Organ Performance from The New England Conservatory of Music, Boston, MA. Both of her degrees focus on historical performance practice.
Additionally, while at Westminster Choir College, Maria studied organ building. She has held many journeyman apprenticeships from Gloucester, MA to Tacoma, WA. Maria has apprenticed with harpsichord builder Willard Martin in Bethlehem, PA. Since 2000, she has served as the Organ Curator for The Bethlehem Bach Choir.
_______________________________________________________________________________________________________
Benefactors Provide a New Home for a Steinway at St. Luke's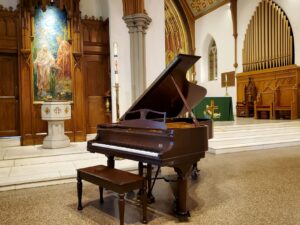 Mother Barnes, The Wardens, and Vestry of St. Luke's are excited to announce the receipt of a 1994 Steinway Model B Grand Piano as a gift from generous donors in the parish and friends of the parish from the community at large. The commemorative edition piano, honoring Steinway's 140th anniversary, is 6'11' in a mahogany satin finish and now adorns the Nave. 
The Steinway Model B will enable St. Luke's to continue its long rich history of commitment to music and the arts. Plans for a dedication concert have already begun. The Rev'd Rebecca A. Barnes said it best, "May we all give thanks and glory to God for this tremendous gift and all God's blessings."
Join us on Sunday, December 19, 2021 at 3pm for our Piano Dedication Concert featuring violinist, Sophie Till and pianist, Ron Stabinsky. The program will include the Violin Sonata in C Major, K 296 by Wolfgang A. Mozart; Violin Sonata No 1 for Violin and Piano by Alfred Schnittke; Fantasy for Violin and Piano in C Major, D. 934 by Franz Schubert; and Maurice Ravel's Sonata No 2, M.77.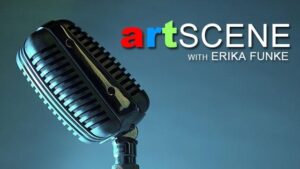 Click here to listen to a recording of the December 17, 2021 episode of artSCENE on our local PBS affiliate WVIA. Announcer and producer Erica Funke interviews Sophie Till, violinist, and Mother Rebecca Barnes, Rector of Saint Luke's.  The piano dedication concert at Saint Luke's is Sunday, December 19, 2021 at 3 PM. Tickets are free through the generous donation of a benefactor.
__________________________________________________________________________________________________________
Organ Dedication Concert: Friday, January 5, 2018 at 7pm.
On Friday, January 5, 2018, St. Luke's celebrated a special event of dedication for our newly rebuilt and tonally enhanced pipe organ. The improvements to our Möller organ by the Reuter Organ company were made possible through the generous donation of Dr. Paul Bender in loving memory of his parents, Luther and Rose.
The evening's performance was given by Dr. Richard L. Elliott, Principal Organist of the Mormon Tabernacle Choir. The concert included include works by Manz, J.S. Bach, Handel, Vierne, Franck, Weaver, Reger, as well as two arrangements by Dr. Elliott.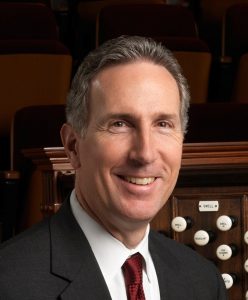 Richard Elliott is the Principal Organist for the Mormon Tabernacle Choir.  For the past 26 years he has accompanied the choir on its weekly radio and TV broadcast, "Music and the Spoken Word," as well as on dozens of CDs and DVDs, and in the choir's annual PBS Christmas special. He also has a busy solo career, having given thousands of organ concerts on Temple Square and all over North America and Europe, and having performed at national and regional conventions of the American Guild of Organists.  He is featured on seven organ CDs and is also a published composer and arranger of music for organ, choir, and orchestra. Before becoming a Tabernacle organist in 1991, Dr. Elliott was an assistant professor of organ at Brigham Young University, and for several years he was an assistant organist at the John Wanamaker Department Store (now Macy's) in Philadelphia, home to the world's largest functioning pipe organ.  A native of Baltimore, Maryland, he received his early musical training at the Peabody Conservatory.  He holds a Bachelor of Music degree in organ from the Curtis Institute of Music in Philadelphia, and master's and doctorate degrees from the Eastman School of Music in Rochester, New York.
Below are links to news coverage of our re-dedication event.
---